Browse Product by Saltwater Fish
Seahorses Recommended Foods
Tips & Hints
The benefits of feeding San Francisco Bay Brand® fish foods

All natural No fillers, no dyes
Highly nutritious
Our natural ingredients retain appearance and scent to entice finicky eaters
Free of harmful parasites and unwanted bacteria
Our high quality control exceeds industry standards
Convenient packaging/easy to use
For over 40 years San Francisco Bay Brand® has been widely recognized as the food of choice for fresh and saltwater fish

Vitamins & Supplements

San Francisco Bay Brand® freeze dried fish foods can be used to soak up liquid vitamins, supplements or medications for easy administration.
Videos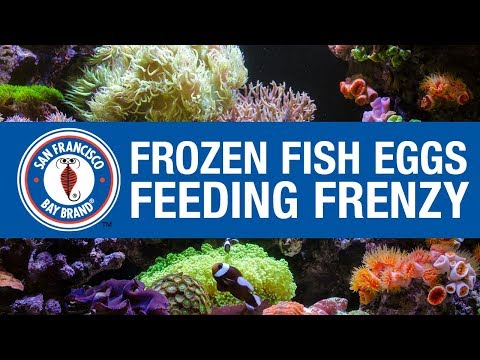 San Francisco Bay Brand Frozen Fish Eggs
Fish eggs are an essential part of the natural diet of many marine and tropical fish. SFBB fish eggs are of marine origin, contain high levels of protein and Omega-3 fatty acids. They are eagerly devoured by finicky eaters, filter feeding marine invertebrates and are an excellent addition to a varied diet. These are pure capelin fish eggs that contain NO dies or preservatives.
Testimonials
Most recently I had purchased your brine shrimp and freeze dried plankton from my local aquarium store. All I have to say is that your company by far has the best fish foods for my fish. I own a cichlid tank and have noticed since feeding them your foods they have grown a large amount with the inclusion of colour. from now on I will recommend these foods to all of my friends who own aquariums and I will be purchasing more of your product in the future.

Jonathan Nancarrow